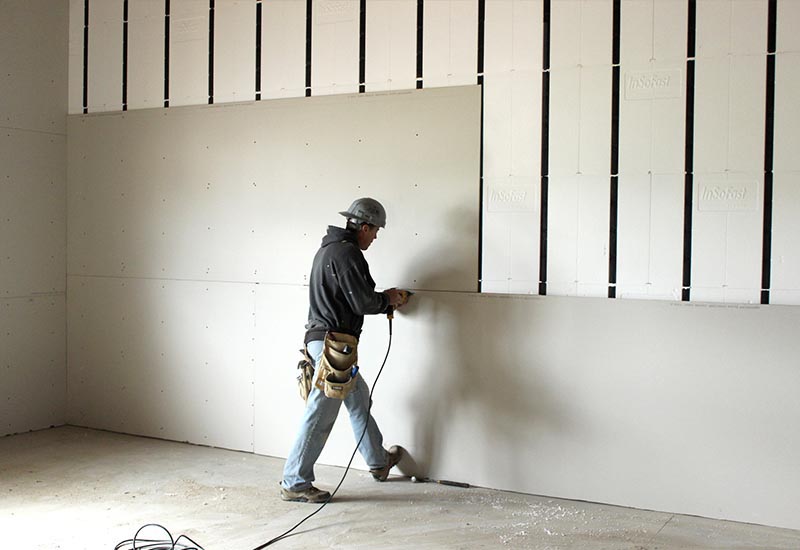 Searching for Drywall Contractors in NJ? Contact Superior today.
Drywall is used to make the interior walls and ceilings in your home, office or business building.
Benefits of Using Drywall
Drywall is fire resistant because it is made from a tough naturally occuring material called gypsum which prevents the spread of fire in a building.
Drywall can be fully customized according to the needs and preferences of the clients.
Drywall can be made mold resistant and moisture resistant.
Drywall can be sound proofed to keep out external noises, such as traffic.
Building with drywall is has been shown to be 5 to 8 times faster than using other construction materials.
Drywall is aesthetically pleasing as it features a crack free, smooth, seamless surface.
Drywall is environmentally friendly and recyclable.
By employing only the finest drywall professionals that New Jersey has to offer Superior Insulation and Drywall ensures that all of our crew members have years of experience in the drywall trade. Our reputation is built on quality workmanship that meets or exceeds our client's expectations.
From interior to exterior walls, shaft walls, ceilings soffits, specialty installations, fire and sound rated assemblies, our drywall installers provide quality work and production that is a testament to our professional reputation.
The walls and ceilings in your property have a big effect on its overall appearance and your overall level of comfort. Contractors offer all manner of services to improve the walls and ceilings of properties, and they use all manner of materials. Drywall is one of the most dependable options, however.
And this is where Superior Insulation and Drywall can step in to help you. Our team of professional drywall contractors is experienced in the art of installing high-quality drywall into both commercial and residential properties, so we don't just offer services to homeowners. Our reliable drywall will help to keep your property well-insulated throughout the year, keeping it hot during the winter and cold during the summer. Of course, those are only a couple of the benefits that come with using drywall. So, what do we offer, exactly?
_
Superior Drywall
What We Do
Superior Insulation and Drywall is New Jersey's leading installer of drywall, as our name suggests. Our contractors are specialists, and you'll be treated to the best service in New Jersey if you pick us. That's not a promise we take lightly. We go above and beyond to offer a variety of services to homeowners and business owners. We do installation jobs on residential premises, and we do installation jobs on commercial premises, so we can help people with all manner of drywall requirements.
Let's talk about our Drywall service. Whether you need drywall for your property's interior or exterior, our experts can help you out. We have contractors who are trained to install drywall in shaft walls, ceilings, and other places that meet your specific requirements. We use gypsum panels to create sturdy and lasting walls and ceilings for properties. Still, why should you choose us over competing businesses in the New Jersey area?
_
Drywall Services in NJ
The Benefits
There are many reasons to pick our service. Superior Insulation and Drywall has the greatest team of contractors in New Jersey, but that's not the only reason as to why we're the best. We offer specialty services, firstly, so we're always ready and willing to deliver a service that meets your specific needs. If you have an unusual job in mind for drywall on your premises, then we'll rise to the challenge.
Drywall can be customized to the needs of each specific customer. In terms of the drywall itself, you'll get a high-quality product. It's fire resistant because it's composed of gypsum, a natural material which will prevent the spread of fire in your home or office building.
The benefits don't stop there, however. Drywall can also be sound-proofed, so you won't have to worry about traffic or other loud external noises distracting you at home or your workers at the office. Drywall is also an aesthetically-pleasing and environmentally-friendly material. If you choose us, then you'll be able to create visually impressive walls whilst helping the planet.
So, if you're looking for NJ drywall contractors, you should choose Superior Insulation and Drywall. We know what we're doing, and you'll get fantastic value for your money if you choose us. We don't just have incredibly skilled employees – when you hire us, you should feel confident in the knowledge that we will use the right products for the job. We only use name-brand products. You can contact us at:
322 West Pleasantview AveHackensack, NJ 07601